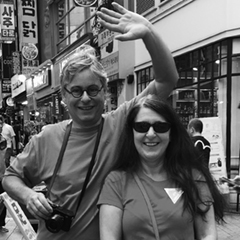 Sabina Oberholzer, Renato Tagli
In Cevio im Maggiatal, in einem Haus aus dem 16. Jahrhundert, in grüner und felsiger Landschaft, leben und arbeiten Sabina Oberholzer und Renato Tagli. Beide geboren in Locarno, gründen sie hier 1983 nach dem Studium bei Bruno Monguzzi am CSIA Lugano und Praxiserfahrung in Zürich und New York ihr eigenes Studio. Sie gestalten Erscheinungsbilder für kulturelle und touristische Institutionen des Tessins wie die Monte Verità Foundation Locarno, entwerfen Briefmarken für die Post und nehmen am Wettbewerb für die Schweizerischen Banknoten teil.
Die Kultur, das Soziale, Mensch und Natur sind ihre Passion und werden zu den innigsten Themen ihres Schaffens. Sie entwerfen Plakate, die weltweit ausgestellt werden; in Japan, in der Türkei, in Deutschland in der Ausstellung «Kinder sind der Rhythmus der Welt», in Mexiko für «Poster for a Healthier World», im Iran für «Wait for Morning», in China für «World Autism Awarness», in Südkorea für «Design & Finding Hope», für die Virtual Design Exhibition «COVID-19» in Malaysia, in Mexiko für «Jules Verne and the Right to Imagine». Ihre Arbeiten werden publiziert, sie nehmen an Jurierungen teil, lehren an Instituten und Universitäten und engagieren sich in Projekten — global. Als erste Tessinerin wird Sabina Oberholzer 1997 in die Alliance Graphique Internationale (AGI) aufgenommen.
Ihre visuelle Rhetorik ist vielfältig und virtuos: einmal konzeptuell, abstrakt, konkret, fotografisch, objekthaft, illustrativ, typografisch, einmal in spielerischer Computerästhetik — oder kombiniert. Die Werke sind Resultat einer intensiven gestalterischen Arbeit und Botschafter einer klaren Haltung und kongenialen Lebensweise.